Geoffrey Borg: We have a lot of faith in Ugra and Ugra has a lot of faith in FIDE
The Chief Executive Officer of FIDE Geoffrey Borg answered the questions of the Press Officer of the 5th leg of the FIDE Women's Grand Prix in Khanty-Mansiysk Eteri Kublashvili and the journalists.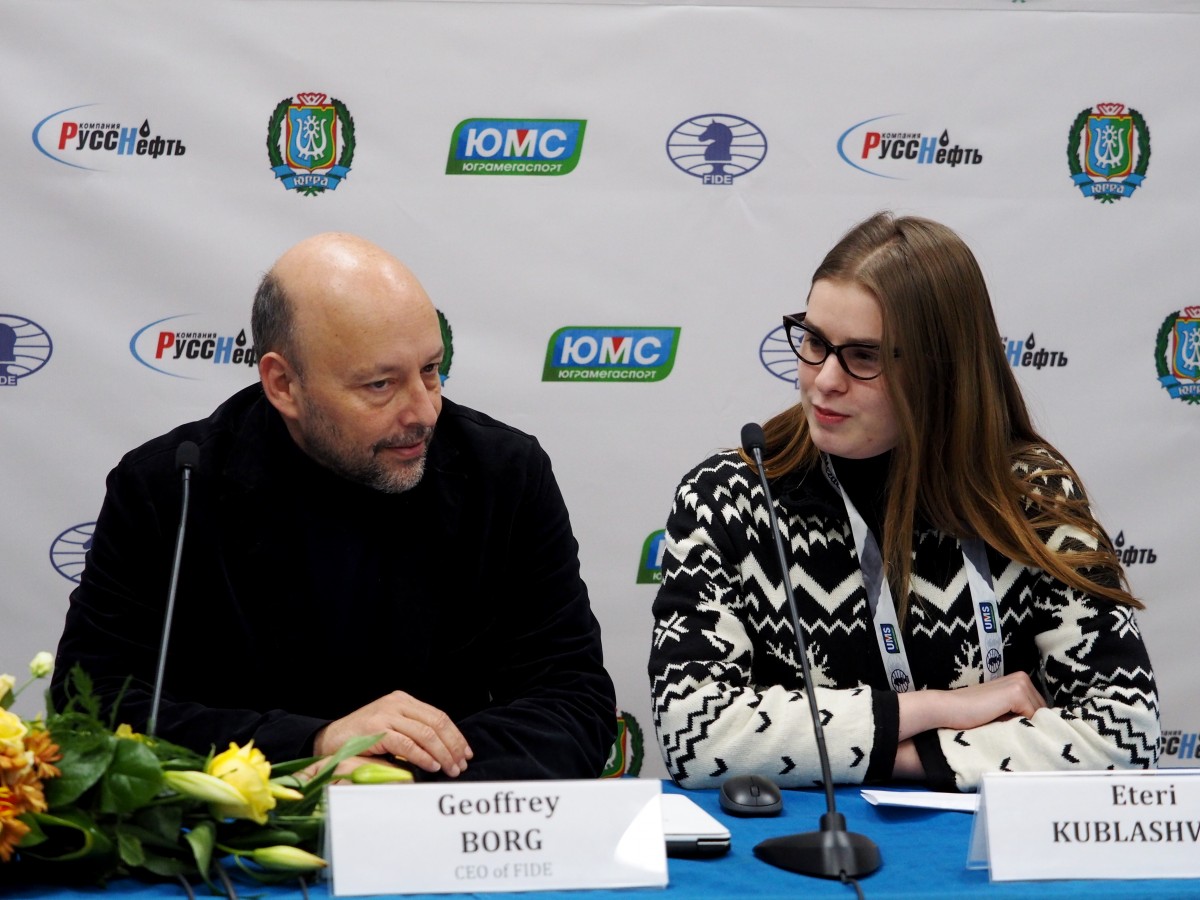 – Geoffrey, what do you think of the organization of the 5th leg of the FIDE Women's Grand Prix in Khanty-Mansiysk?
– It is always a pleasure for me to be here in Khanty-Mansiysk. This is the 11th time for FIDE to organize chess event here since 2005. It is actually our 19th individual championship or tournament, because, of course, we had combined tournaments in the past. Always the organization is at the highest level. We have a very well equipped media center, a playing hall, all the girls are happy very much with the conditions.
It is also very interesting that this time we have the Governor's Cup in parallel, so they also enjoy the company of some very strong Russian grandmasters who are playing here at the same time. And the hotel is also good so all the conditions are right for a great tournament.
– Women's chess is always very exciting. What can you say about the games of this tournament so far?
– Women's chess is always very exciting. Men may be technically higher but we do see the higher percentage of draws with men. There's a much higher respect for men that in certain positions they will not try to squeeze something whereas the women grandmaster will normally take an extra risk. Sometimes there's a lot of psychology going on a board in women's chess.
But still here we are talking about the world's top players. Level is anyway exceptionally high. We have people like Alexandra Kostenjuk and Harika Dronavalli who have beaten many man grandmasters in other tournaments around the world. So it is not that they are playing risky games, the level is exceedingly high, their calculation is very good, the standard is much higher than it was in the previous years, thanks to the fact that they have more training facilities, more access to computers. What we would like to see, of course, is more exposure of sponsors and organizers to the women's chess. We thank those organizers who show their initiative like Khanty-Mansiysk and organize such a quality event.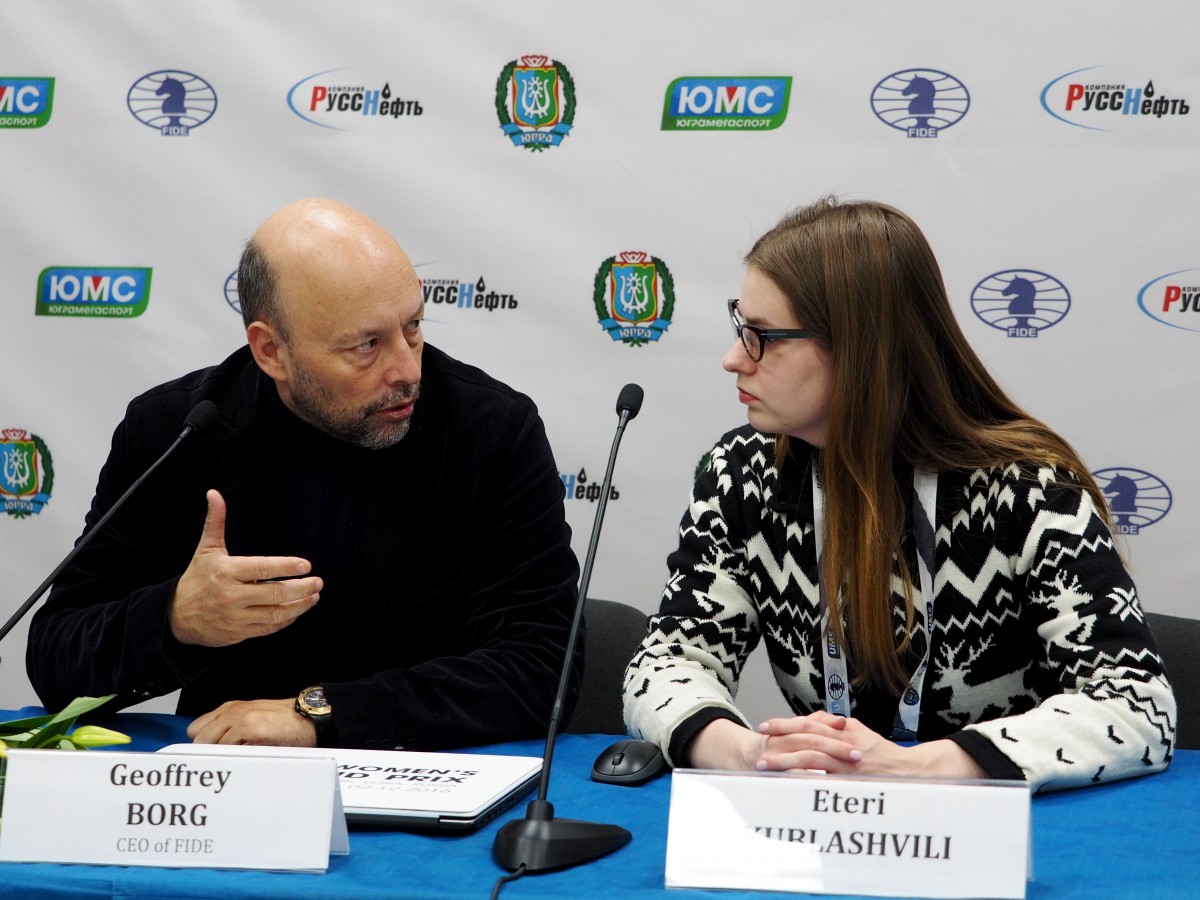 – Yesterday in the first round of the tournament the Governor of Ugra Natalia Komarova visited the playing hall and made the first move together with you in the game Pogonina – Girya. This interest and attention to chess is quite important. We also know that Khanty-Mansiysk will host the Chess Olympiad 2020. Are there some preparations for that event made already?
– Actually she made a very strong move as Girya won. She brought good luck to Girya. Ironically both players are actually playing for Ugra chess club so they know each other very well. But the important point is that we have a very big commitment from the Governor Natalia Komarova so we are happy. She takes a very good interest, she knows the details now as I said we've been organizing so many events and have done so many contracts with them. And she came to Baku in September and presented to the General Assembly of FIDE the bid proposals that they had made. FIDE has a very good experience and very long-term relations with Khanty-Mansiysk. We have a lot of faith in them, they have a lot of faith in FIDE, they are organizing a lot of sport events in Khanty-Mansiysk so it is very easy for them to use their infrastructure to organize a very high-quality event.
Of course, we have a number of issues I started the discussions already during my previous visit in September during the World Youth, which was a very successful event here in Khanty-Mansiysk. Yesterday I had a meeting  both with the Ugra Chess Federation and "UgraMegaSport" as well as with the Governor where we went through 68 budget points regarding everything. Now we will start holding regular meetings to start drilling down into everything like logo design, layout on the venues, accommodation, transfer from the airport, possibility of charter flights and so on.  As you can imagine the details are huge, because in total it involves about 3000 people who will be coming from many countries. Now FIDE has 187 members, probably by 2020 FIDE will have 192 or 193 countries. So we expect about 180 countries to participate in Khanty-Mansiysk.
– It's not the first time for you in Khanty-Mansiysk, what can you say about the entertaining part of your visits? Maybe you have visited Russian baths or went fishing? How do you spend your free time in Khanty-Mansiysk?
– Well, I've done probably everything in Khanty-Mansiysk in terms of entertainment. At first time I was here in 2007 and since then maybe I have been here 12 or 15 times, I don't even count. Because I don't count wherever I've been to around the world. I visit too many countries. But, of course, the fishing was exceptional when I came here during the World Youth. We went out fishing and for me it was a very nice experience because, of course, when the weather is difficult like it is right now people cannot appreciate much how beautiful the area is. But when it is sunny and the whole area is available then it is really very nice.
You have lots of things here: very beautiful forests, wildlife and those are things that you can experience. So there's lots of things to do in Khanty-Mansiysk: you have aqua park, you have saunas, there are things that people can do, it's a very healthy lifestyle. The one thing about Khanty-Mansiysk is that people here live healthily. The food is quite healthy, in the West we have to eat a lot of junk food, have a lot of stress. There's much less stress here and people have a better quality of life in principle. Sometimes it is nice just to be able to relax, have healthy lifestyle and good things to do.