Gunina and Girya catching up with the leader
After Sergey Karjakin had caused a stir in the chess world with his win against Magnus Carlsen in the 8th game and then enjoyed the rest day, the participants of the 5th leg of the FIDE Women's Grand Prix in Khanty-Mansiysk were fighting even more self-sacrificing than before.
Valentina Gunina outplayed the sole leader of the event Nino Batsiashvili with White. The Russian chess player gained advantage from the opening and Black was forced to break through in the center, but in further complications White won two pawns. Then Valentina was not very precise, and Nino could have forced a draw.
V. Gunina – N. Batsiashvili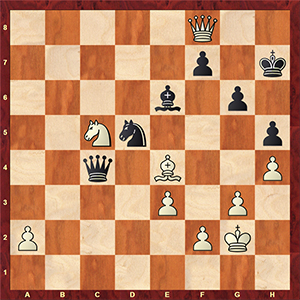 34…Qe2 was a certain survival for Nino – in all the lines Black could equalize.
Instead Nino played 34…Nc3? allowing White to avoid all perpetual-check complications. Still the fight has lasted for more than 40 moves, but White eventually won.
Gunina became one of the leaders, as well as Olga Girya who won against Lela Javakhishvili.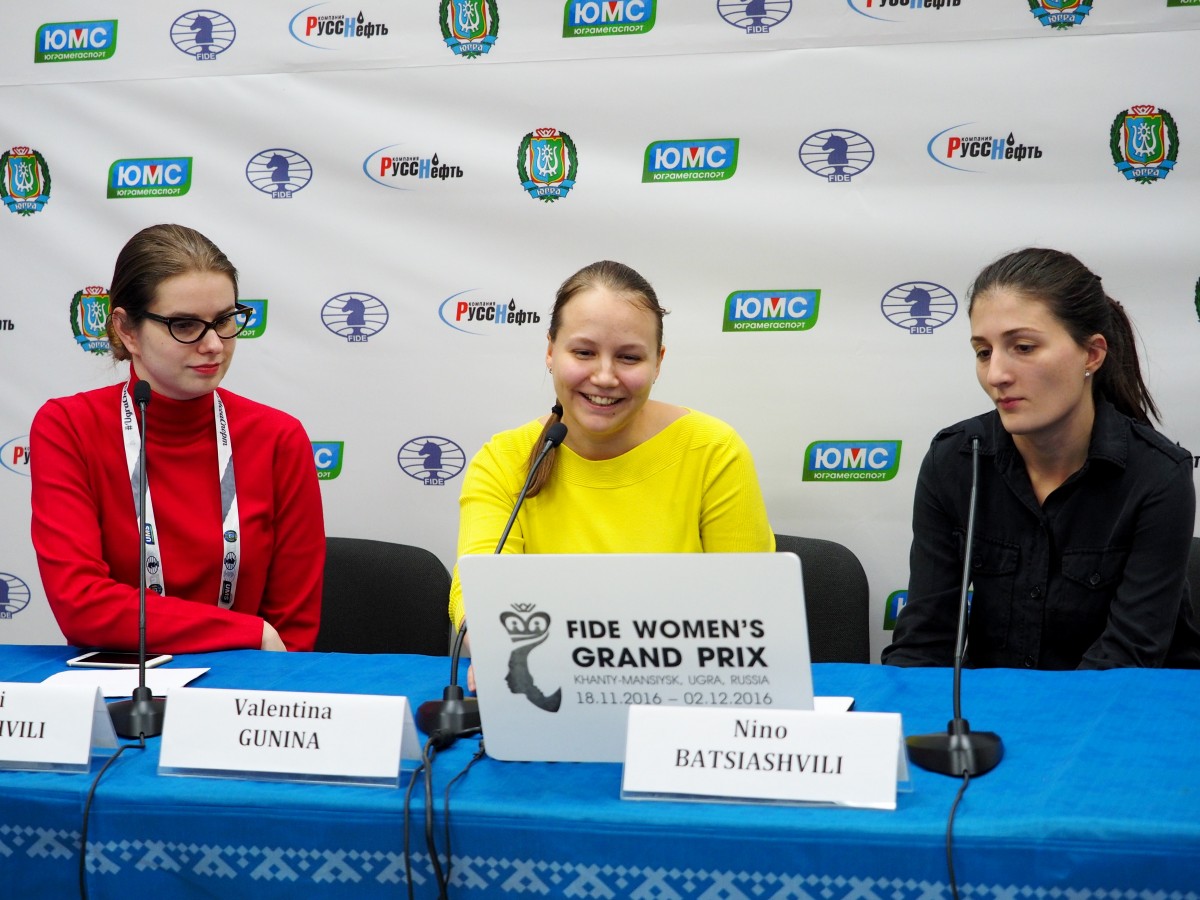 Lela Javakhishvili misplayed in the opening with White and Black got a very pleasant position with her knight on d3. At one point Olga weakened her attention, so that Lela could achieve an uneasy balance.
L. Javakhishvili – O. Girya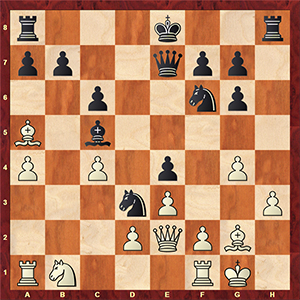 17…Ne5?! allowed White to rehabilitate herself after the opening.
18. Nc3 b6 19. g5?
Much better was 19. Nxe4 with a possible line 19…Nxe4 20. Bxe4 bxa5 21. d4, and White acquired chances to survive.
In the game Girya won a piece 19…Nf3+ 20. Bxf3 exf3 21. Qxf3 Nd7 22. Qxc6 Qxg5+ 23. Kh2 Rd8, and soon Black celebrated the victory.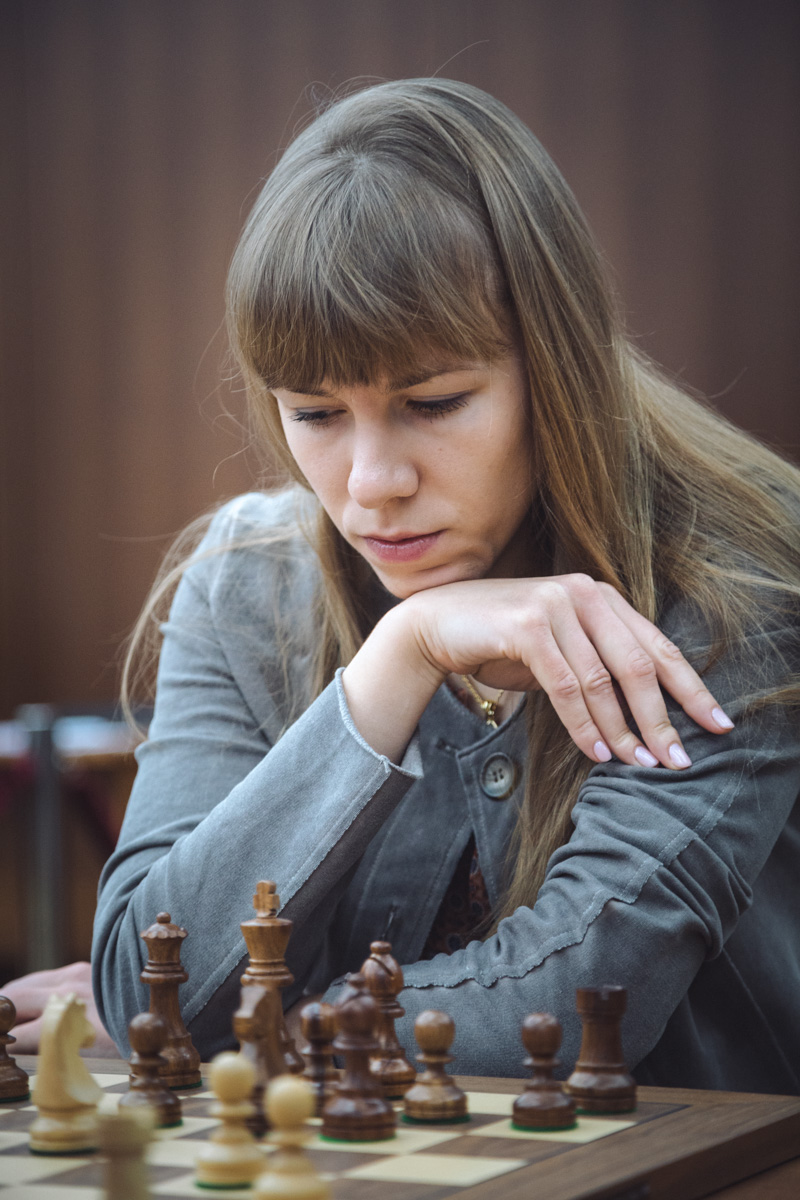 Alexandra Kosteniuk created a very nice positional masterpiece with White against Natalia Pogonina. In the Giouco Piano White managed to achieve a very comfortable position with a number of good plans. Alexandra preferred to set an outpost in the center and then began an action on the queenside. Natalija tried to create a certain active play on the other side of the chessboard, but didn't succeed in it. White opened a second front on the kingside and put the black monarch in danger.
A. Kosteniuk – N. Pogonina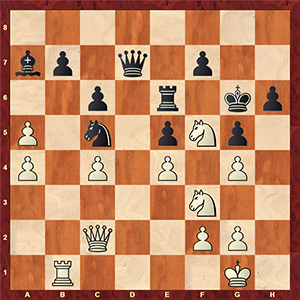 34. g3 Re6 35. Kg2 Re8 36. Qc1 Rh8 37. Qh1 h5 38. Rd1, and soon the Castle Black has fallen.
Dronavalli Harika moved to 50 percent having won the game against Natalija Zhukova. The Ukrainian grandmaster chose the French Defence with 7…b6, and, as Dronavalli said at the press conference, this line proved to be quite hard to defend. The Indian grandmaster noted that she's played this variant for Black a lot, and knows many tricky lines how to shatter Black's position, especially after having analyzed Michael Adams's games.
In the position with different-sided castles Natalia chose a dubious plan by taking the pawn on d4 thus opening the "c" file, and then White started dominating on both sides. Playing precisely and energetically Harika grabbed a victory.
Quite a smooth game was played by Almira Skripchenko and Sarasadat Khademalsharieh in the Giouco Piano. Probably in the middlegame White went for the exchanges a little bit early, and then the position started to simplify step by step. The chess players agreed to a draw after Black had made her 30th move.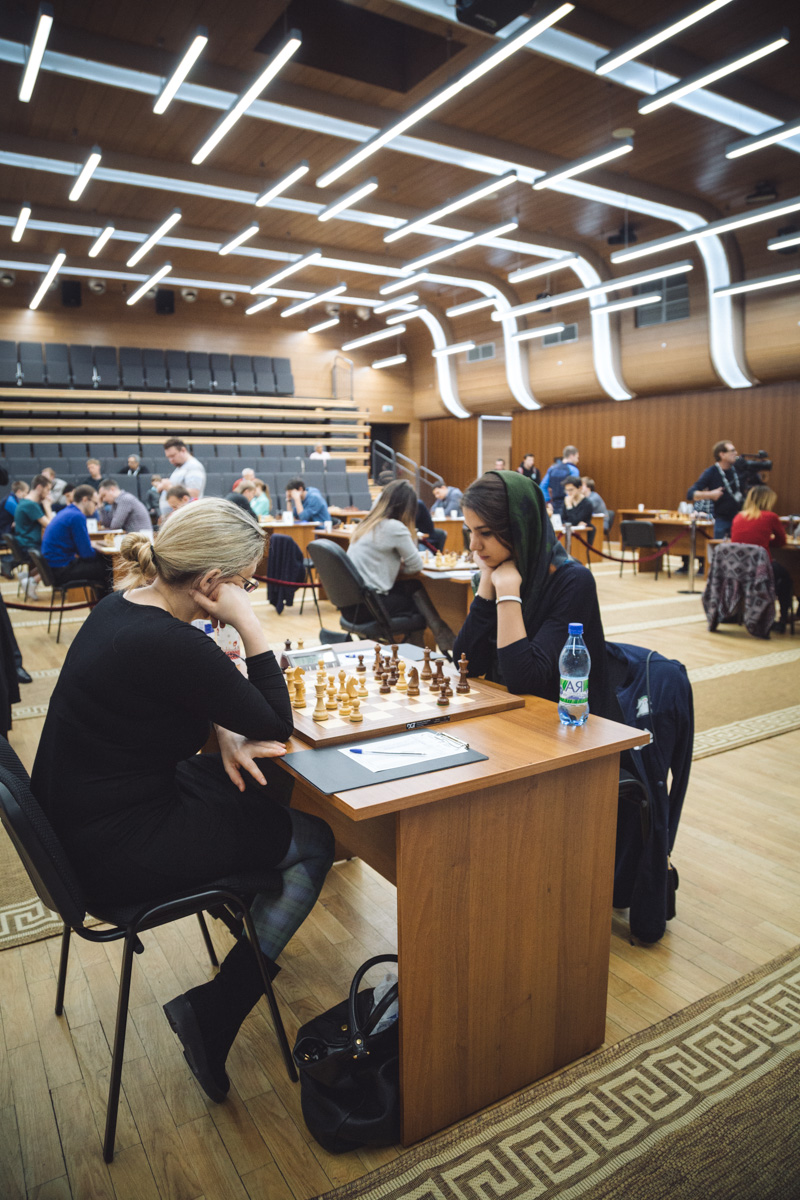 Another draw happened in the game Khotenashvili-Ju. The players discussed the Catalan Opening with a pawn sacrifice by White. Both sides were acting quite accurately, and although the position was full of pieces, the opponents decided to force a draw by a threefold repetition.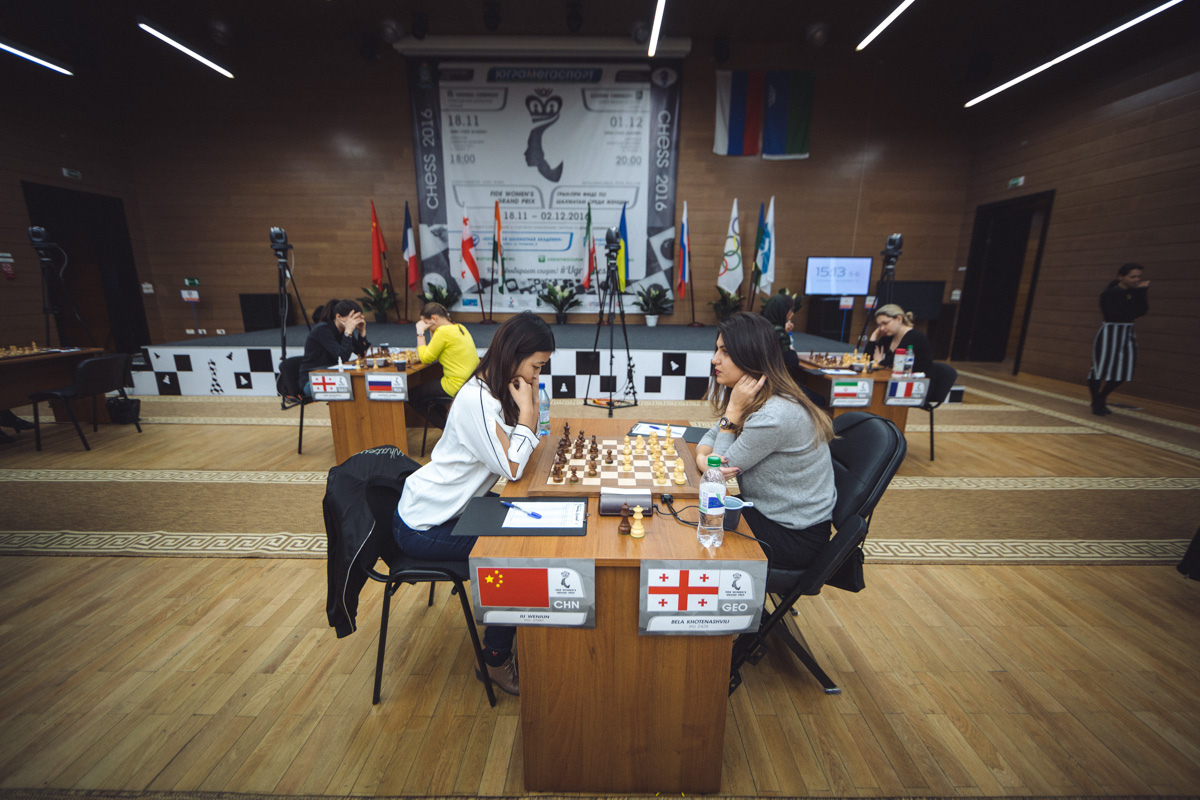 After 4 games there are three leaders – Valentina Gunina, Olga Girya and Nino Batsiashvili – 3 points. Ju Wenjun and Sarasadat Khademalsharieh are 0,5 point behind.
Round 4 results:
Javakhishvili – Girya 0-1, Khotenashvili – Ju Wenjun 1/2-1/2, Harika – Zhukova 1-0, Kosteniuk – Pogonina 1-0, Gunina – Batsiashvili 1-0, Skripchenko – Khademalsharieh 1/2-1/2
We remind you that Wednesday, November 23, is a rest day.
Standings after round 4:
1-3. Valentina Gunina, Nino Batsiashvili, Olga Girya – 3, 4-5. Ju Wenjun, Sarasadat Khademalsharieh – 2,5, 6-7. Alexandra Kosteniuk, Dronavalli Harika – 2, 8-10. Natalija Pogonina, Natalia Zhukova, Almira Skripchenko – по 1,5, 11. Bela Khotenashvili – 1, 12. Lela Javakhishvili – 0,5.
Round 5 pairings:
Khademalsharieh – Javakhishvili, Batsiashvili – Skripchenko, Pogonina – Gunina, Zhukova – Kosteniuk, Ju Wenjun – Harika, Girya – Khotenashvili