Ju Wenjun and Nino Batsiashvili heading the tournament race
On the second free day, more participants went to see the hockey match; among the spectators were Alexandra Kotseniuk, Olga Girya, Natalija Pogonina, Lela Javakhishvili, Bela Khotenashvili and Nino Batsiashvili. And again, the ice magic worked out – Olga, Nino and Bela won, Alexandra, Lela and Natalija drew their games. Nobody of the hockey lovers lost.
In the battle of the leaders Ju-Khademalsharieh it was White who celebrated victory. In the Bogo-Indian White got a very comfortable play after a pawn sacrifice, with their rook controlling d-file, space advantage on the queenside and a strong knight on c7. Ju Wenjun demonstrated her high technical skills and made her best to achieve a decisive advantage. Perhaps, Sara wasn't precise at some moments, and by the 30th move it was very hard for her to defend the position; on the 38th move the Iranian grandmaster resigned.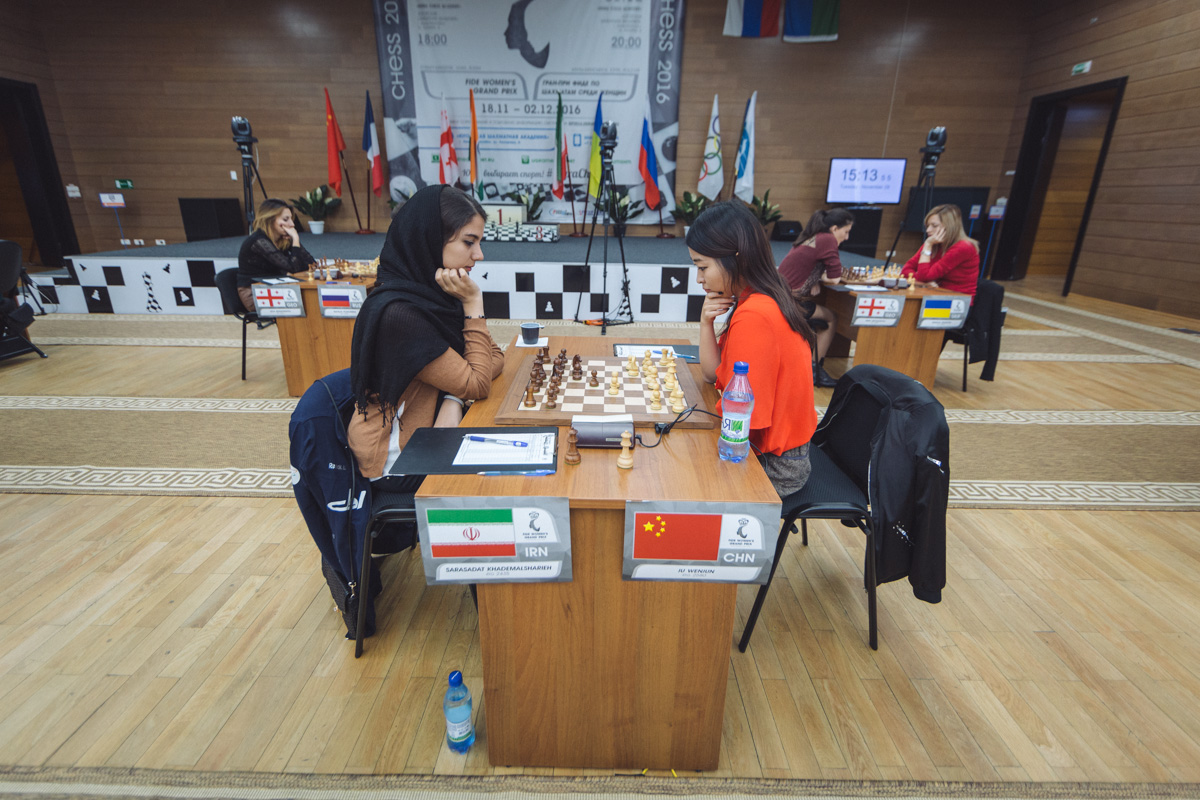 Nino Batsiashvili played Black against Natalia Zhukova who was holding the initiative and pushing during the whole game. Natalia made progress on both sides of the board, but Nino was defending hard and managed to create counter chances.
N. Zhukova – N. Batsiashvili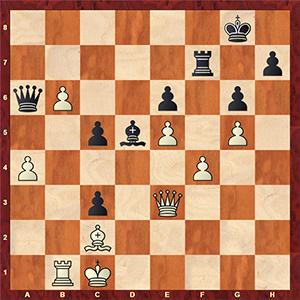 The tiredness shows itself, and Natalia makes a blunder: 52. Rb5?!
At the press conference both players agreed that it was much better for White to play 52. Qd3 with a possible continuation 52…Qc8 53. a5 Rxf4 54. a6 – an outcome of this position seems to be absolutely unpredictable for human beings.
52…Bc6 53. Rxc5?
53. Qxc5 offered White some chances to survive in an unpleasant endgame without the exchange.
53…Qf1+ 54. Bd1 Rd7 55. Rxc3 Qxd1 56. Kb2 Rd2+, and White resigned.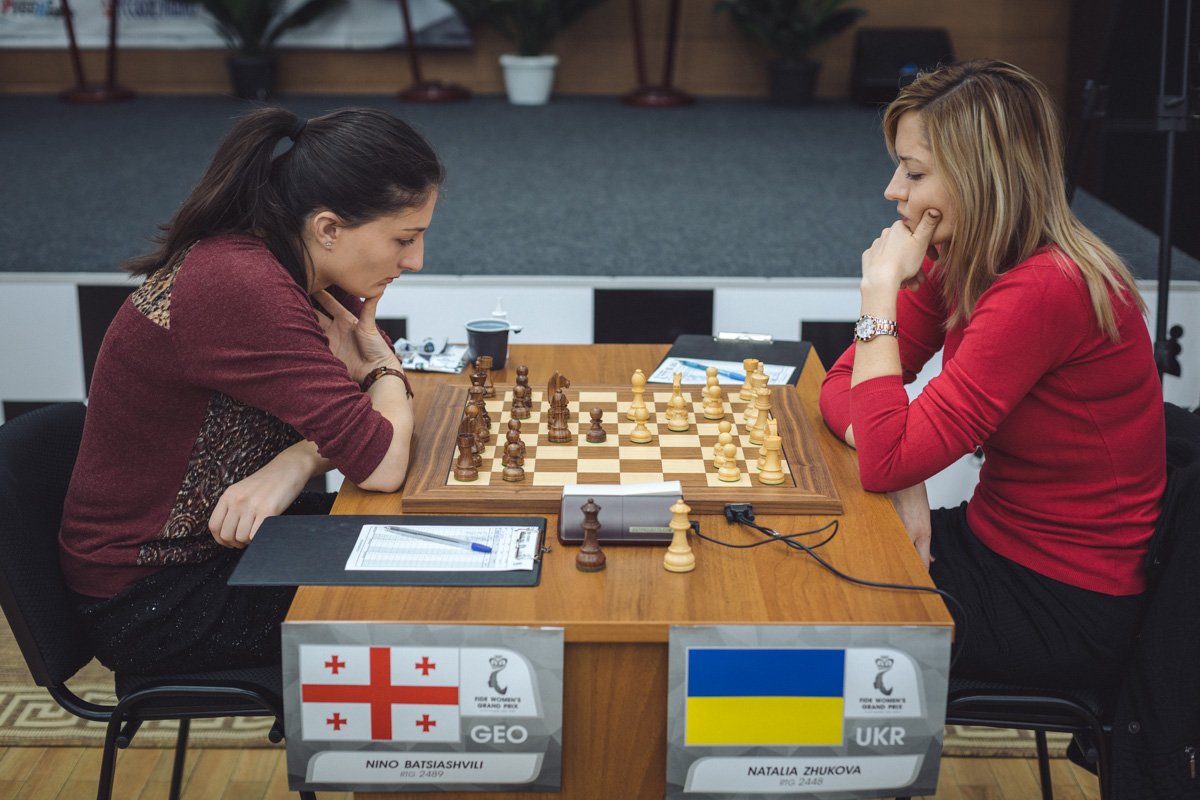 Almira Skripchenko chose a rare line against Olga Girya with Black and was quite happy with her position from the opening. But in the middlegame she spent much time calculating difficult variations and in the time trouble allowed Olga to grab the initiative after a pawn sacrifice.
O. Girya – A. Skripchenko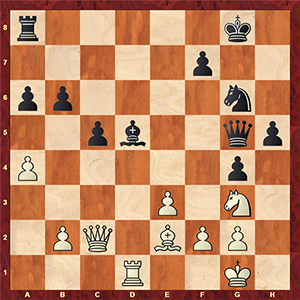 32. a5! – a strong resource which was probably unforeseen by Black.
32…Re8? Almira called this move her biggest mistake. 32…Rb8 was much more persistent.
33. axb6 h4 34. Qf5 Qxf5 35. Nxf5 Bb3 36. Ra1, soon White won two pawns and created irresistible threats.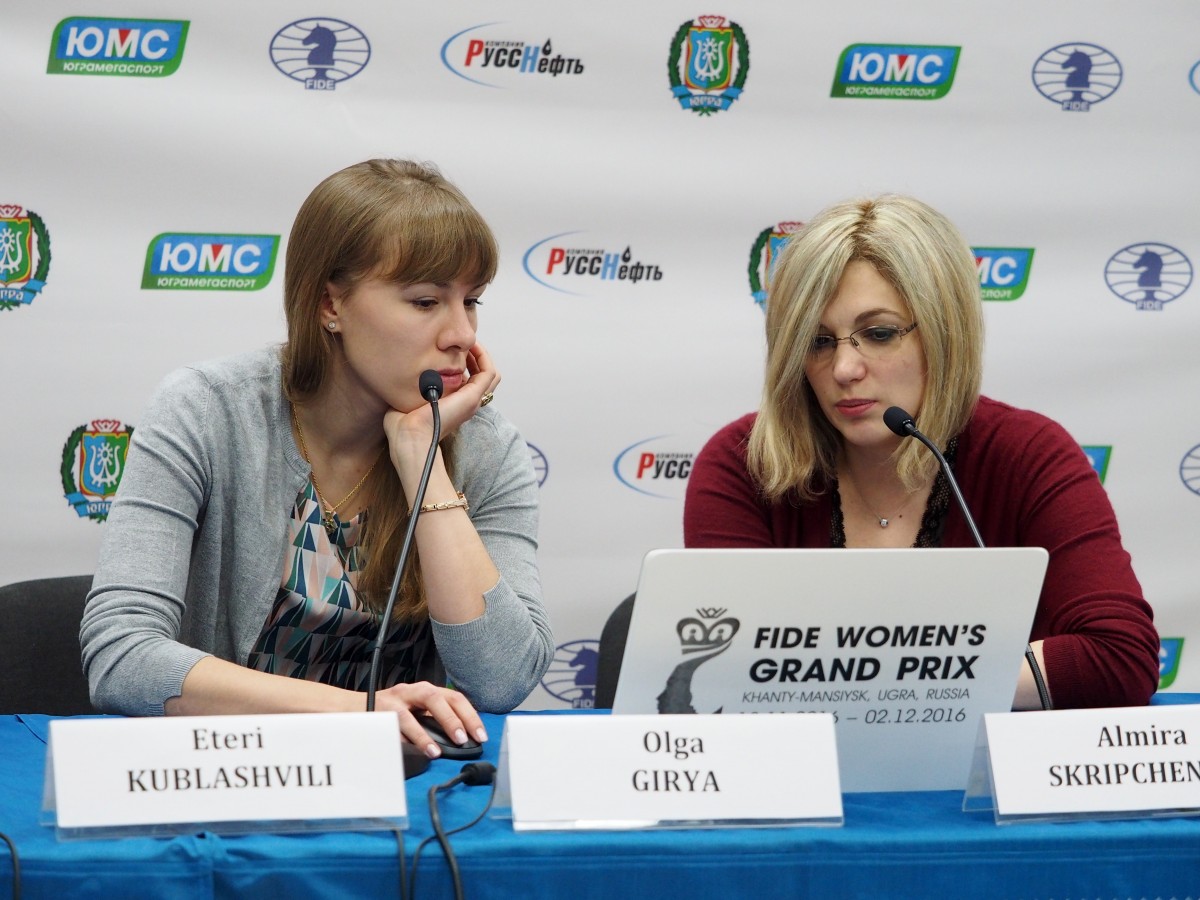 Bela Khotenashvili and Valentina Gunina discussed the Slav Defence, where White was creating fighting actions on the queenside, while Black was constructing her counterplay in the center.
Temporarily Black gave up a pawn, but didn't manage to win it back. Later on, Valentina wasn't very accurate and lost the second pawn: some moves later she gave up a piece, and her position became irrecoverable.
Dronavalli Harika found herself in a difficult position in the game against Alexandra Kosteniuk with White in the Petroff Defence. The Indian grandmaster misplayed in the opening, and her situation looked very dangerous. But Alexandra decided to play actively, and performed the march of the "f" pawn from the 7th to the 3rd rank. Alexandra herself criticized this decision, because it allowed White to achieve some coordination of the pieces, and then the position boiled down to a better endgame for White. Black defended very carefully and held a draw, although White had some chances, but they were left behind the curtain.
The shortest game of the round was played between Natalija Pogonina and Lela Javakhishvili. Lela surprised her opponent by playing the Benoni Defence for the first time in her life, and got a rather promising position with Black. Natalija forced a draw with a threefold repetition when it became possible.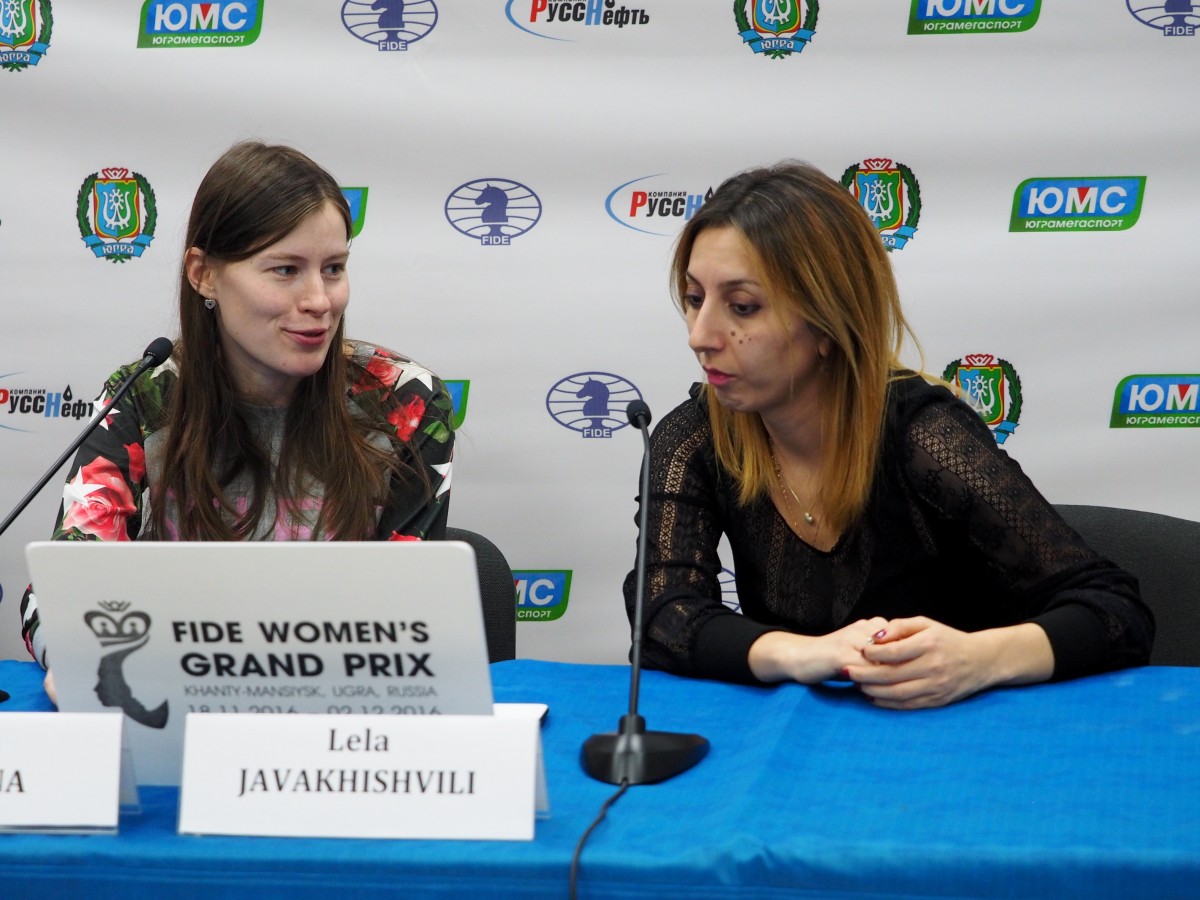 In the overall standings, the positions of the leaders haven't changed: 1. Ju Wenjun – 398,3 cumulative points, 2. Humpy Koneru – 335, 3. Alexandra Kosteniuk – 305. But Ju Wenjun is breaking away taking into account her points.
Round 9 results:
Pogonina – Javakhishvili 1/2-1/2, Zhukova – Batsiashvili 0-1, Ju Wenjun – Khademalsharieh 1-0, Girya – Skripchenko 1-0, Khotenashvili – Gunina 1-0, Harika – Kosteniuk 1/2-1/2
Standings after round 9:
1-2. Ju Wenjun, Nino Batsiashvili – 6, 3. Alexandra Kosteniuk – 5,5, 4-5. Sarasadat Khademalsharieh, Olga Girya – 5, 6-8. Natalia Zhukova, Valentina Gunina, Dronavalli Harika – 4,5, 9. Bela Khotenashvili – 4, 10-11. Natalija Pogonina, Lela Javakhishvili – 3,5, 12. Almira Skripchenko – 2.
Round 10 pairings:
Javakhishvili – Kosteniuk, Gunina – Harika, Skripchenko – Khotenashvili, Khademalsharieh – Girya, Batsiashvili – Ju Wenjun, Pogonina – Zhukova