Ju Wenjun is triumphant in Khanty-Mansiysk
In the final round of the FIDE Grand Prix in Khanty-Mansiysk Ju Wenjun and Natalija Pogonina made a rather quiet draw, and the Chinese player won the tournament with 7,5 points out of 11.
As it was said before, by winning the 5th leg and the whole series of the FIDE Women's Grand Prix, Ju Wenjun qualified to the FIDE Women's World Chess Championship Match.
Valentina Gunina chose the Caro-Kann Defence with Black against Alexandra Kosteniuk. In the middlegame, White was attacking on the kingside, while Black were creating a counter play in the center and on the opposite side of the board. As Alexandra confessed after the game, she had played "badly" and had allowed Black to gain initiative and advantage. A strong black rook on the 5th rank became Valentina's key to success: Black managed to confuse the opponent and win a pawn.
On the 27th move White missed a strong answer by Black, and soon her position turned out to be lost.
A. Kosteniuk – V. Gunina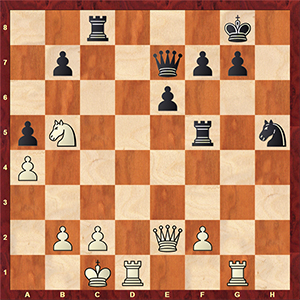 After 27…Qh4! Alexandra decided to give up her queen for two rooks by playing 28. Nd6 Rxf2 29. Qxf2 Qxf2 30. Nxc8 f5, but the black passers on the kingside determined the outcome of the encounter in Black's favor.
Harika Dronavalli managed to win a seemingly drawish rook endgame against Almira Skripchenko.
The draws were agreed in the games Zhukova-Javakhishvili and Girya-Batsiashvili.
Nino Batiashvili, having gained 6,5 points, became the silver medalist of the event.
A very complex game was played by Bela Khotenashvili and Sarasadat Khademalsharieh, where in a sharp endgame both players had good chances to win at some points, but missed the strongest lines, and eventually the game ended in a draw.
According to the Regulations, all prizes and GP ranking points are shared equally, in cases of any tied position/s. No tie break system will be utilised for the individual GP tournaments. So, Valentina Gunina, Sarasadat Khademalsharieh, Dronavalli Harika, Olga Girya, Alexandra Kosteniuk tied for  3-7 places.
Final Standings:
1. Ju Wenjun -7,5, 2. Nino Batsiashvili – 6,5, 3-7. Valentina Gunina, Sarasadat Khademalsharieh, Dronavalli Harika, Olga Girya, Alexandra Kosteniuk – 6, 8. Natalia Zhukova, – 5,5, 9. Bela Khotenashvili – 5, 10-11. Natalija Pogonina, Lela Javakhishvili – 4,5, 12. Almira Skripchenko – 2,5.